An active lifestyle is an important part of staying healthy, and this is as true for your pet's wellbeing as it is for yours. When it comes to exercising pets, however, cats often get overlooked. This is especially true for indoor cats, who have a limited territory to prowl, often nothing but their own toys to occupy themselves, and who fool us into thinking they're lazy by lounging in the sun during the day.
Luckily for our feline friends, we can now offer cat wheel exercise as a way to keep them active. What are cat exercise wheels? Quite simply, they are "hamster wheels" large enough for household cats. "But hamster wheels are made for rodents!" you may think. Well, technically, yes. The concept of a free-turning wheel was developed for rodent cages first because it was recognized that they were confined to very small living spaces and needed a way to simulate movement.
The same concept applies equally well to larger animals, in particular those confined to home. It's the same as humans using treadmills, only lower tech and more accessible for our furry buddies.
Why Cats Need Exercise
An instinct is an inborn behavioral impulse common to a species. Cats, like all domesticated animals, still have very strong instincts form their wild ancestors that drive their needs and behavior. What are these instincts? Hunting instincts. Don't be tricked by that lazy, sunbathing lump of fluff: cats are predators, every one of them.
They have sharp claws that they're driven to maintain by scratching hard posts in their environment. Their eyes are driven to hone in and focus on movement. Their minds are driven to capture whatever is moving and kill it. And cats are driven to do all of this in a large territory that they define for themselves and wander endlessly. Why? Because predators rely on prey for food, and prey moves around. Therefore, predators are also driven to move and be very active in order to find and follow potential prey.
So why do we see more lazy layabout lumps and fewer dedicated hunters? Because cats are, in fact, crepuscular, meaning they're most active around dawn and dusk, right when most of us diurnal (day-active) humans are just getting up or settling in. This also means that the time when they most need to occupy themselves with activity is the time when they're most likely to be cooped up without anyone around to help entertain them.
Instincts are hardwired into DNA – they can't be cured with therapy or treatment. Even domesticated cats who are fed regularly will have the same drives that they would in the wild, and they'll be much happier and healthier if you give them ways to release those drives instead of depriving them.
Symptoms of Sedentary Cats
So what really happens to cats who don't have a way to exercise? Is it really that big a deal?
More than half of house cats are overweight or obese. Granted, overweight pets are also fed far too much food, but often a lack of exercise exacerbates the problem. Just like in people, animals with excess pounds are at risk of developing arthritis pain, high blood pressure, heart disease, diabetes, and tumors. Yes, these aren't just human problems!
And while obesity creates similar effects for both humans and animals, and exercise maintains physical health in the same way for both humans and animals, it also affects mental health in the same way. Exercise and mood are very strongly psychologically linked. If you have a cat who's restless or alternatively depressed, who run around aimlessly or seem to never have any energy, who meow all the time and scratch up furniture, then you have a cat who's not getting his physical or instinctual needs fulfilled and is trying to find an outlet!
Many cat owners who get an exercise wheel have noted a difference in their cats' temperaments: Once they start using the wheel, they go back to it readily and become overall calm and content compared to how they behaved before. No more anxiety or depression.
Yes, exercise has the same positive affects on our four-legged companions as it does for us, both in body and mind. It's amazing how such a simple change can do so much.
Wheels Aren't Just For Hamsters
I'll be honest: Cats are not hamsters. Rodents seem to take easily to their little wheels, while cats may be very weirded out by this strange new object in their environment. Some owners recall in product reviews that it took nearly a month for their cats to even try the wheel out, while a few didn't seem to have luck at all. It turns out cats are difficult to train – who knew, right?
However, though our feline friends are often difficult, they're not hopeless. More and more people are reporting success and peace of mind for themselves and their pets, given time and patience. Exercise wheels aren't just for rodents after all.
What Products Are Out There?
You may think something like a cat wheel is rather rare, but in fact there are a few such products on the market and even DIY instructions for the handy people amongst us.
One Fast Cat: Perhaps the most thoroughly customer-tested and available for wide distribution seems to be the One Fast Cat exercise wheel. Begun as a Kickstarter campaign in 2014, this company impressed enough to raise over $140,000 of funding and apparently continued to impress once the product went live, since they've sold more than 20,000 wheels to date.
The wheel design has neither hub nor spokes, so your cat can jump in and out of either side without catching on anything. The main wheel is stabilized by four base wheels, which run on ball bearings that are covered by flaps to prevent snags. There are multiple options for customizing the wheel interior color, including black, blue, and leopard skin. Perhaps the one true downside is that this product is only available in the contiguous United States and some parts of Canada.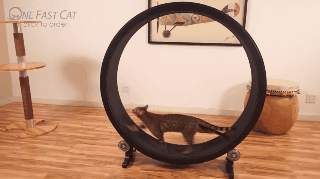 Ferris Cat Wheel: This wheel looks similar to the One Fast Cat at first glance, but there are a few significant differences. First and foremost is that it has international distributors, making it available in several countries. Social media praise for the product, regardless of distributor, suggests an impressed customer base.
Structurally, this exercise wheel uses six base wheels rather than four, further smoothing out the spinning motion. They're protected inside the main wheel's plastic casing to prevent any kitty paws catching on them. The ball bearings are high quality, designed for even small or feeble cats to be able to turn the wheel with ease. The EVA traction pads lining the wheel are available in black, blue, green, pink, or yellow.
DIY Cat Wheel: For the handy people amongst us, building an exercise wheel for small animals can be done at home is also an option. It will certainly be cheaper, and you have the option to build a standing wheel (one tutorial is linked above, and you can find another here) or a wall-mounted wheel if you have the know-how (one such tutorial can be found in the linked video's description).
However, unless you have access to high quality materials and a fair level of skill in putting them together, homemade wheels will likely be noisier and run a bit less smoothly than professional wheels. If noise is a factor for you in your home, it may be best to stick with a professional product, such as the ones detailed above.
Happy Cats Await
Let's do right by our cats and take care of everything they need, even and especially those parts of their lives that you may not have been aware of until now. However you choose to do it, make sure that your cat has ways to get up and move when it needs to. It'll give your cat a healthier body and mind, and you a happy and grateful housemate.